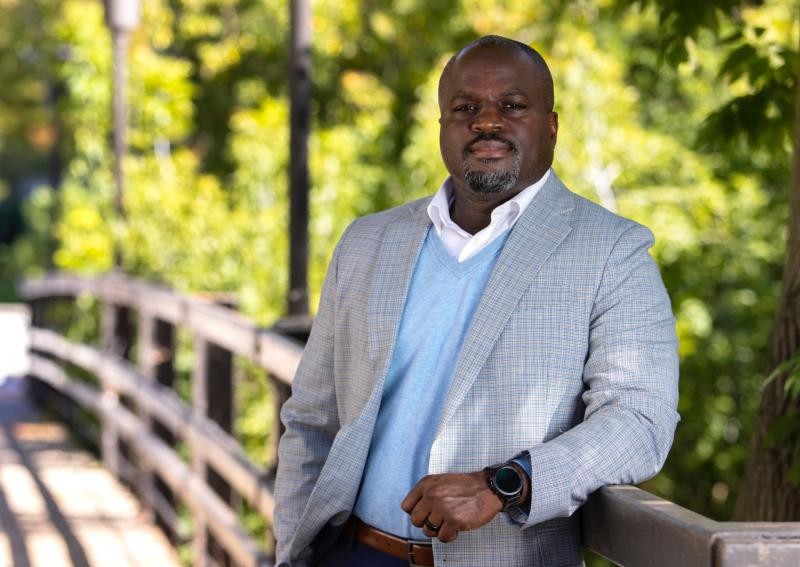 Dr. Eric Mayes
Staff
Dr. Mayes, an innovative, social justice, and equity focused educational leader serves as the Chief Executive Officer of Umoja Community Education Foundation. He serves as affiliate faculty at Johns Hopkins University and as a Scholar in Residence at the Center for Strategic Leadership as a Co-PI for a $22.8 million U.S. Department of Education Teacher and School Leadership grant focused on improving student academic outcomes by increasing access to effective educators in under resourced schools.  Prior, he was a Vice President for Institutional Research and Diversity, Equity, and Inclusion at Lawrence University and was the founding executive director of the Arkansas Academy for Educational Equity and an Associate Professor in the College of Education and Health Professions at the University of Arkansas.
His research focuses on examining the mediating role of culture on cognition and learning, with particular interest on the impact that culturally responsive pedagogy and assessments have on academic and life outcomes for linguistically and culturally diverse students and communities. He has spent time researching in both West Africa and Brazil. 
Prior, Dr. Mayes served full-time on the faculty at Johns Hopkins University working at the nexus of leadership development, social entrepreneurship, and educational equity; designing and implementing an innovative Doctor of Education program that focused on addressing some of the most intractable problems of practice in education.
As a former national director at the Children's Defense Fund, Dr. Mayes led national initiatives, including program evaluation, growth strategy, and overseeing the CDF Freedom Schools program. Dr. Mayes served as a director at the Merrill Palmer Skillman Institute and inaugural faculty fellow in the Eugene Applebaum Chair in Community Engagement while at Wayne State University in Detroit, Michigan. Earlier in his career, Dr. Mayes also worked as a director at the U.S. Dream Academy and as an elementary and middle school building administrator in Washington, DC. Prior, Dr. Mayes served as a high school teacher and football coach in Detroit, Michigan.
He holds a post-doctorate Master's Degree in Education Policy and Management from the Harvard Graduate School of Education, a Ph.D. in Educational Psychology from Howard University, and both a Master's Degree in Educational Technology and a bachelor's from the University of Michigan, Ann Arbor.
As a former college athlete, Dr. Mayes advanced from a walk-on to Co-Captain of the 1997 University of Michigan National Championship Football Team. He spent two years as a coach on the Johns Hopkins football team, winning two conference championships in back-to-back undefeated regular seasons, compiling an overall record of 22-2 during his tenure.   He has also led student athlete development efforts with both Central Michigan University and the University of Michigan football teams.