Shared with the Umoja Community on Friday, March 26, 2021.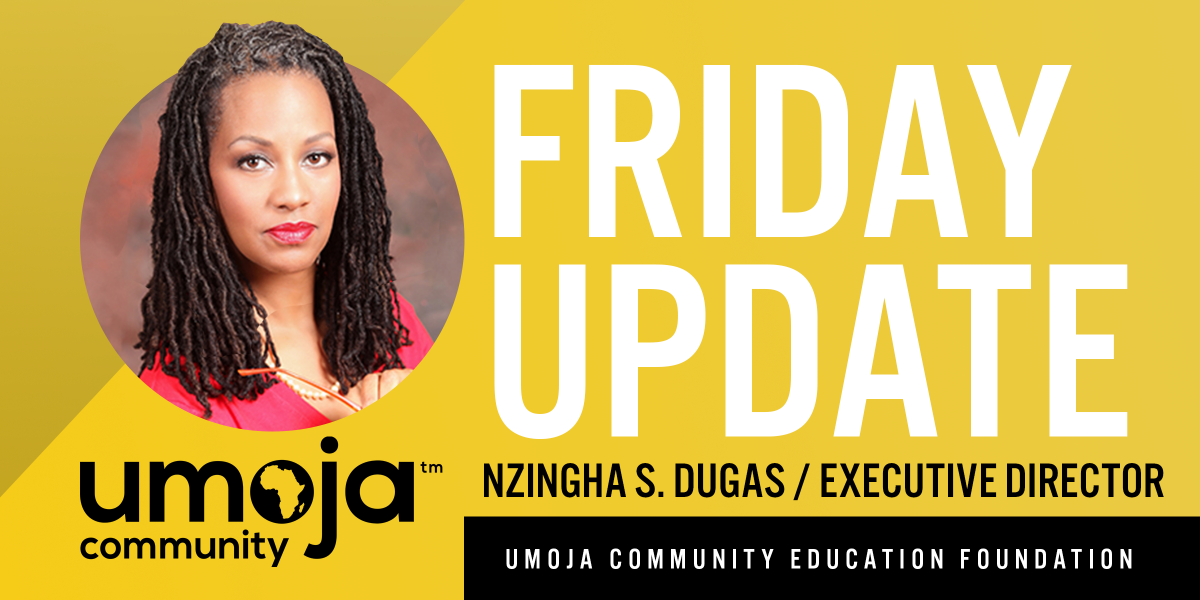 Dear Umoja Community,
It's amazing that we are coming to the close of the first quarter of 2021. A year ago, we were bracing for what it would look like to exist and support our students during a global pandemic. Much progress has been made since then and we are seeing light at the end of the tunnel. Thank you for being resilient and present for the Umoja Community. I have been overwhelmed by your support and participation in our events and activities. It means a lot to our collective community that you have stayed enthusiastically engaged.
Last Friday, we hosted a wonderful panel to discuss the experiences and wisdom of notable Black women in leadership. Thank you to each of you who joined us for this event. I was inspired and felt very deep connections with the stories and courage of our panelists. We are exploring ways to continue this dialogue to address disparities and the need for support among women leaders in education. Here are four key points I gleaned from this amazing talk:
Leadership means outcomes and getting results.
Strength and power are everywhere, from leaders as well as those women in service roles who take care of us.
Go to the source of power and take your seat.
Where the people (community) lead, the leaders will follow. Don't give up your collective power.
There was something for everyone in this leadership dialogue. My takeaway was to remember that power begins within and everyone has access to it. Find your source of power and use it to be a change-inspirer!
This week, I want to highlight some extraordinary women whose leadership has altered the landscape of education. In 1976, Dr. Mary Frances Berry was appointed chancellor of the University of Colorado and is noted to be the first Black woman to lead a major research university. Ten years later, Dr. Johnnetta Betsch Cole, became the first woman to be president of Spelman College. These are only a few examples of the ways that women are leading fearlessly.
We should be thinking about ways that we can support Black women in leadership. Are there opportunities to bring more women to "the table?" Are women and allies for women's leadership represented on hiring committees at your institutions?
At the winter session of the Summer Learning Institute last month, we learned about a deeper and cultural understanding of coaching called Jegna. A Jegna is an Amharic word that means "a very brave person who is a protector of culture, who produces an exceptionally high quality of work, and has dedicated themselves to the protection, defense, nurturance and development of our young" (Nobles, 2005). The idea of nurturing and developing our young also means supporting those who are young in their field or discipline and in their career or leadership. It requires those of us who are seasoned to be accountable to and responsible for nurturing and supporting new professionals and students.
Is Jegna work part of your campus culture? Do young women leaders feel empowered to contribute and provide vision on your campus? Are we developing opportunities to co-create? Let's open up a dialogue by asking similar questions. This is a great time to have an intentional dialogue or porch talk on leadership and coaching, bringing more women to the table. As we close out International Women's History Month, let's find ways to inspire, use and implement our collective power.
This month's recommended reading is The Purpose of Power by Alicia Garza, co-founder of Black Lives Matter. Garza weaves a historical and personal story of her experience developing and engaging with the movement. She speaks to the importance of community developing a voice and a power base. There are many great lessons that can be connected to the Umoja practices. Take a read and let me know what you think.
I hope that you have an amazing weekend and I look forward to connecting with you soon. As always, take care and keep safe.
In service and community,
Nzingha
Nzingha Sonya Dugas, Executive Director/CEO