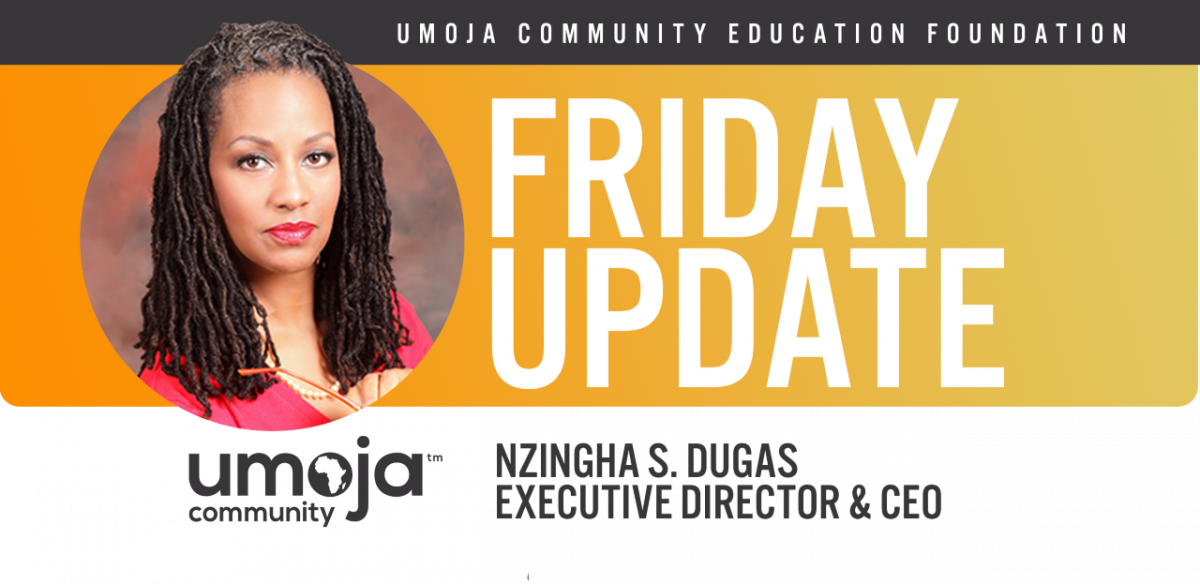 Dear Umoja Community,
I hope that you have had a wonderful and productive week. I am incredibly grateful for the connections I have made with many of you through this year's events and meetings. I have been encouraged by your continued commitment to our students and the innovative approaches you have taken to keep our community engaged.
Since I have last written to you, we have seen an increase in the assault on Black bodies in this country. In some cases, we have seen progress and have experienced moments of hope. Yet, we are still navigating the disregard for Black life. As healers in our community, we must consider the ways emotional taxation plays out in our communities. Even as healers, we must do the challenging work of processing racial trauma in our owns lives.
In this work, we must be courageous enough to rely on the resources of our ancestors and truths they have left for us to reflect on through their literature and art. We have a dual role as healers to lead others and ourselves through the process of healing. We do not have to endure this process alone. Below are some resources that have been helpful for me throughout this season. I hope that they will be of value to you and the communities we serve.
Emotional Support Resource: https://abpsi.org

The Association of Black Psychologists has great talks, readings, and other support and resources.

Literary Resource: My Grandmother's Hands: Racialized Trauma and the Pathway to Mending Our Hearts and Bodies by Resmaa Menakem

This is a great read to help consider how we are all navigating these times. It's been a wonderful reference for me. It's also available as an audiobook.

Ted Talk: The trauma of systematic racism is killing Black women. A first step toward change. This talk is a great opening to a deeper conversation among friends and trusted colleagues. https://youtu.be/8olL43PKJKw
With each of these resources, please use caution and take your time. I have found that they are useful for me first and then shared with my closest networks.
As always, please take care of yourselves and your families. Thank you for all you do to make Umoja successful.
In service and community,
Nzingha Sonya Dugas
Executive Director
----------------------------
Umoja Community Education Foundation
1540 River Park Dr. Suite 121
Sacramento, CA 95815
Phone: (916) 661-6455